Close
Menu
Close
Register for
Online Banking
In as little as 10 minutes, you can have all your accounts at your fingertips.
Registration Username = Member ID # (Primary Share Number)
Registration Password = (0000XXXX) Four Zeros THEN the Last Four Digits of the Primary Account Holder's Social Security #
Note: Already registered through the mobile banking app? You're all set for online banking. No need to register.

Business Checking
Manage Your Cash Flow And Expenses
Powerful Time-Saving Features
Robost Reporting

Quickbook Connect

Online & Mobile Banking
Business Basic Checking
Best For Average Monthly Balances Under $5,000
No Monthly Service Charge

$100 Minimum Opening Deposit

300 Allowed Items Per CycleT.3
Overdraft Services
Business Advantage Checking
Best For Average Monthly Balances Over $5,000
$10 Monthly Service Charge

No Monthly Fee For Average Balance Over $5,000T.2

$100 Minimum Opening Deposit

600 Allowed Items Per CycleT.2
Overdraft Services
Earns DividendsT.4
Safe & Secure Checking Solutions
Federally Insured Deposits
Each depositor is federally insured by the National Credit Union Association up to $250,000.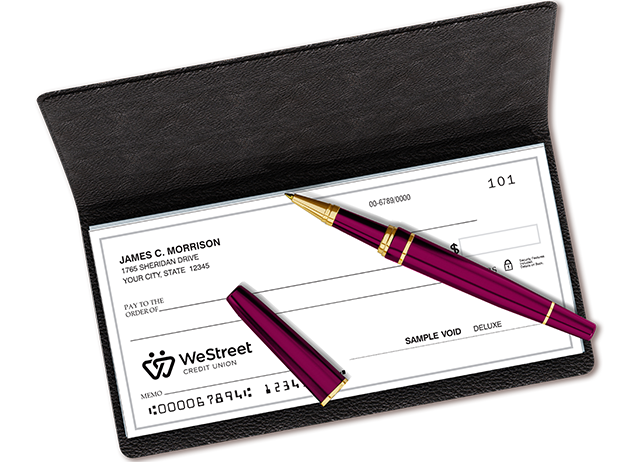 Pay Bills Automatically
Automatically send electronic or physical checks to almost anyone with just a few clicks. Schedule recurring payments and worry less about your bills.
Manage Users
Set up users and assign permissions to control who can view accounts, make payments, and more.
Secure eStatements
eStatements are a free and easy way to be organized and clutter-free by delivering a digital statement to your secure online/mobile banking account.
At WeStreet, we want to support businesses by offering a full-service online and mobile banking business solution.
View Business Online Banking
Ready to Make the Switch?
Account Transition Checklist
Keep track of your action items to complete your transition to a WeStreet checking account.
View Checklist
Surcharge-Free ATMs
With thousands of TransFund ATMs across the country, you're never far from on-hand cash.
Find An ATM Near Me
So, what do you want to do next?
Rates are variable and may change after the account is opened. Fees could reduce earnings. If you have any questions or require current rate information on your accounts, please call the Credit Union at 800.256.5626 or 918.610.0200.
T.2Monthly service charge will be waived for accounts with an average monthly balance equal to or larger than $5,000.
T.3An item fee may be assessed for each transaction and transactional item, such as but not limited to checks on the account. Exceptions apply. The definition of an item is at the discretion of the Credit Union and may change at any time.
T.4Must maintain a minimum daily balance of $5,000 in your account to earn dividends.