Close
Menu
Close
Register for
Online Banking
In as little as 10 minutes, you can have all your accounts at your fingertips.
Registration Username = Member ID # (Primary Share Number)
Registration Password = (0000XXXX) Four Zeros THEN the Last Four Digits of the Primary Account Holder's Social Security #
Note: Already registered through the mobile banking app? You're all set for online banking. No need to register.
1. Open

Open a Free Checking account online or in a branch. 

2. Free Card

Show your personality with every swipe. Get a debit card instantly at a WeStreet branch or a customized card in the mail.

3. Rewards

Earn Cash Back Rewards every time you use your WeStreet debit card. View your current offers when you log into Online Banking.
Show Your Style
Personalize your card with free design options from WeStreet.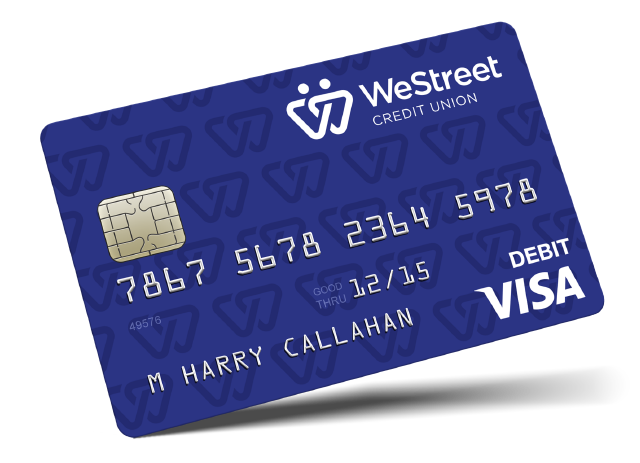 FAQS
What Questions Can We Answer?
Is my debit card secure?
Each WeStreet debit card is equipped with an EMV chip to increase security and protect your privacy. The EMV chip also allows you to use contactless payment when available.
What happens if my card is stolen?
With Visa's Zero Liability Protection Policy you will never be held responsible for fraudulent purchases made with your debit card.
How do I track my spending?
Create a budget, view pending transactions, and check your balance with WeStreet's free online and mobile banking.
How do I set up alerts?
Set account alerts to receive custom, real-time alerts for your WeStreet debit card. Log in to Online Banking and choose "Alerts" to get started.
Can I customize my debit card?
Yes! It's free to customize your card. Choose from dozens of options when you open a WeStreet checking account.
Secure & Contactless Payment
Your card's EMV chip adds extra protection against fraud and makes it possible to use contactless payment methods.
What Will You Do With your rewards?